FRP molded grating is steadily replacing steel gratings both in industrial and commercial applications. This is because of its stunning mechanical and chemical advantages which include rust and corrosion resistance, lightweight, and greater strength. When selecting FRP molded grating, it is paramount to consider sourcing it from a reliable manufacturer and supplier. For over a decade, OCEANFRP has been manufacturing and supplying high-grade molded FRP to clients from different parts of the world.
When shopping for molded FRP grating, there is a couple of factors to consider. These include:
• Design criteria
Based on the type of application, molded FRP grating come with varying specifications. For instance, the allowable FRP grating for walkways is different from that of a driveway. Large deflections are recommended for heavy loads.
Depending on the design used, fiberglass grating panels can withstand various loads and can be reinforced more through bonding, bearing and cross bars. Reinforcement is ideal for heavy-duty construction projects and other chemical applications.
• Determine the type of resin used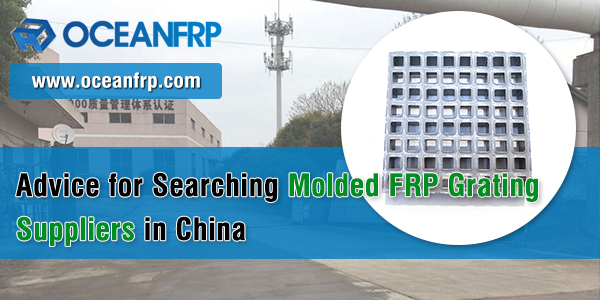 Generally, different types of resin are used when making FRP molded grating. The resin used in the process varies in mechanical properties and load capabilities. Polyester is commonly used. Vinyl ester is best-suited for use in areas where there is high exposure to harsh chemicals and other corrosive substances. Phenolic is good for curbing smoke, fire, and other toxic substance.
Type IFR-25, a premium isophthalic polyester resin has a flame spread rating of less than 25 and provides modest chemical resistance. It is ideal for general purpose use. VEFR-25 resin is great for environments with high exposure to caustics and acids like in petrochemicals, mining, plating, and wastewater applications. VEFR-10 resin is good for applications that require more flame resistance like offshore platforms.
• Consider the span
By determining the maximum FRP molded grating span, you can find the right pick that meets various loads and allowable deflections. This also helps you choose a molded FRP grating with the right support and dimension. For longer grating spans, you can select a tall bar to reduce beam frequency and increase beam load support. As a general rule, it is economical to choose a slightly larger beam than to use additional small beams.
• Appearance
Being a distinct material, molded FRP grating can be modified in terms of dimension, surface grit, shape, color, and size. Light gray and yellow are the standard bar colors. To help improve the appearance, different topcoat treatments are used in the process. Fine grit is appropriate for use on bare feet while medium grit is good for industrial applications. Coarse grit is ideal for areas where there is lots of debris and lubricants. Urethane can be used as a top coat to help improve UV protection and appearance.
•We have a decade of experience in fiberglass grating suppliers.
•We're the leading suppliers of high-quality fiberglass molding products. Count on us for different types of mold grating fabrications.
•We guarantee quick delivery for all supplies.
•Custom services with excellent customer support.
For high-quality FRP molded grating, count on OCEANFRP for the best deals.