Introduction
FRP, or fiberglass reinforced-plastic, grating is a new technology that is already taking the construction and home remodeling industries by storm. Basically, FRP refers to a plank-shaped material that is cured in the form of unsaturated resins such as vinyl ester, isophthalic, phenolic and orthorphthalic. The material contains some open meshes and is often reinforced using a fiberglass roving frame in a specially-controlled production environment.
FRPs were initially engineered for flooring surfaces, but they have since found use in other areas such as ramps, stair treads, catwalks, trench covers and platforms. Choosing a fiberglass grating supplier is no walk in the park. In this article, we shall discuss some of the features to consider before setting with a company.
High Quality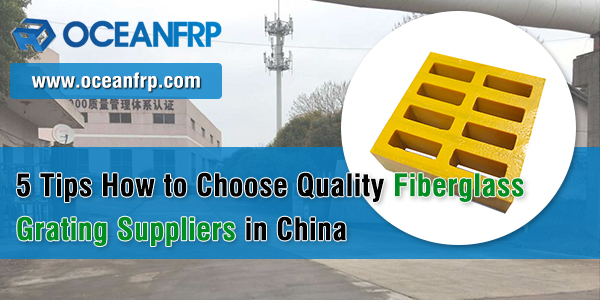 The first tip to consider before hiring a fiberglass grating suppliers is the kind of quality they guarantee. It is important to remember that the fiberglass grating is a fairly unregulated industry.
Therefore, it is not unusual to come across suppliers who are only out there to fleece well-meaning buyers. At the very least, ensure the supplier you go for offers fiberglass grating with the right flame and corrosion resistance, as well as the right durability to serve you for years on end.
Fast Delivery
After placing your order on your preferred fiberglass grating, the last thing you want is for the order to drag on for too long before reaching your intended destination. This is why it is important to always go with a supplier that places extra emphasis on delivery time.
In order to assess how reliable the supplier is, check their estimated shipping period and if there are any other bureaucratic processes involved between placing your order and having the material supplied to your site.
Technical Experience
An ideal FRP grating China company should have the right skillset and technical experience on the fiberglass grating they deal with. As a consumer, you are bound to ask certain pertinent questions such as the right place to place the material, if there are any installation services required among other technical details concerning your FRP.
The supplier should not just act as a link between you and the producer. Instead, they should have such technical information at their fingertips, and be willing to divulge them whenever you make enquiries on the same.
Excellent Services
Excellent service delivery should form part of a professional FRP molded grating manufacturer's service charter. Excellent services does not just entail offering high-quality fiberglass grating material.
It also involves offering consultancy services on all the possible functionalities of the material. Other aspects of excellent service delivery include aftercare customer services and keeping customers on the loop in terms of the progress with their orders in transit.
Competitive Pricing
Last but not least, you need a FRP molded grating manufacturer in China who offers their FRP Molded Grating at fairly reasonable and industry-competitive rates. When it comes to FRP molded grating, hardly does the phrases high quality'' and affordable pricing'' go hand in hand.
However, you can still find a fiberglass grating supplier who offers high-end materials at prices that are easier on your budget.
Conclusion
If you are looking for professionally designed, high-functional and competitively-priced fiberglass grating in China, look no further than OCEANFRP. Our products are known for their superior performance in both acidic and alkaline environments, as well as remarkable resistance levels against flames and corrosion.
Feel free to contact via phone today at +86-570-3065621 or go to our website at https://www.oceanfrp.com/frp-molded-grating/ to read more on our FRP molded grating offers.