If your business deals in fiber glass reinforced plastic gratings then you must be looking for manufacturers and suppliers of FRP molded gratings in China. Ocean New Materials Co. Ltd located in Quzhou, China can be the best option for you because they manufacture and supply high quality Fiber Reinforced Plastic Gratings throughout the world. Before dealing with this company you must have brief information about this company and its products.
About Ocean New material Company, Ltd
This company is located around 350 km away from Shanghai, in Quzhou city, as a privately owned company. The OceanFRP Factory is spread over an area of 5,000 sq. m. where they manufacture a wide range of FRP products including Pultruded gratings, phenolic gratings, hand rails, stir treads, drainage covers, ladders and FRP molded gratings etc. since last 10 years. During this period the company has fabricated more than 30 sets of molded gratings to satisfy its customers as per their requirements. Main focus of the company is on R&D of different types of FRP gratings to create a good market of satisfied customers through their quality products and good customer support system.
Reasons to choose FRP molded gratings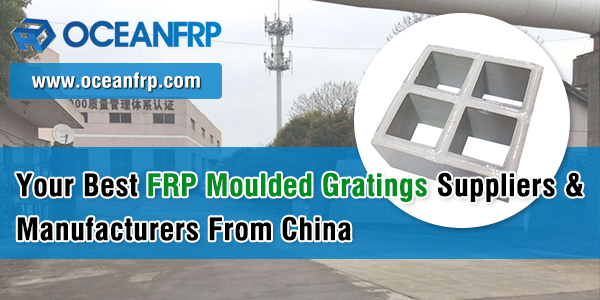 The FRP molded gratings manufactured and supplied by OceanFRP are molded in one-piece. These fiberglass reinforced plastic gratings are available in various forms including standard panels as well as made to order custom panels. Fiber glass reinforced plastic gratings are mainly used for platforms, floors, trench covers, stair tread, and catwalks etc. These gratings should be used in different applications due to their various features briefly discussed here under.
Resistance to corrosion: FRP gratings resist corrosion when continuously exposed to various types of chemicals and surrounding environment. They can be exposed to splashes, submersions, gases, fumes, resins and spills consistently for long time period.
Resistant to fire: According to E-84 tunnel test method of ASTM or American Society For Testing and Materials The flame spread rating of class 1 products is 25 or less which is true with FRP products.
Light in weight: FRP molded gratings are liked by most people du rot their light weight as they can be handled easily without using any mechanical lift or hoisting device.
Performance and cost: The molded gratings made form FRP can be installed at very low cost and serve you lifelong.
Highly strong: Another reason to use gratings made from fiberglass reinforced plastic is that they have excellent capacity to bear load in any direction horizontal and vertical.
Spark resistant: These gratings can be installed in the areas where combustible gases are regularly used because they will not create a spark even when collided with any metallic product.
Versatile use: FRP gratings can be used in a number of applications like traffic, transportation, construction engineering, metal finishing, chemical plants, food plants, water engineering, surveying oceans, electronic industry and printing industry etc.
Thus, Ocean New Materials Co. Ltd located in Quzhou, China can be your best manufacturers and suppliers in China because they manufacturer wide variety of FRP molded gratings for your business. They can also customize Fiber Reinforced Plastic Gratings as per your requirement.