Fiberglass reinforced plastic grating, commonly known as FRP grating, is a complex material that is made by merging fiberglass with a resin matrix. During the manufacturing process, different types of resin are used and include polyester, isophthalic polyester, vinylester epoxy, and polyurethane. Unlike steel grating, FRP grating is non-corrosive and is ideal for use in areas where corrosion is rampant. Usually, it is available in various standard and custom panels designed from individual drawings from customers. It can also be modified into different colors based on customer specification.
What does Molded FRP grating consist?
Molded FRP grating consists of alternating and continuous layers of glass fiber which adds strength. The resin used helps to consolidate the fibers together giving the molded FRP the desired shape and corrosion-resistance property. Due to the exclusive bidirectional strength, molded FRP grating can withstand various cut-outs which allow for equipment and pipe to penetrate without using any support in the opening. In fact, this is the most desirable feature of molded grating which enables it to tolerate high impacts.
Moreover, molded FRP is very versatile and can be customized into different grating surfaces. You can find it in a concave, mini-mesh grating, gritted surface grating, rectangular type polish surface, covered surface grating, and transparent gritted surfaces. Each of them comes with different thickness level, mesh size, weight and panel dimension.
What are the various applications of Molded FRP grating?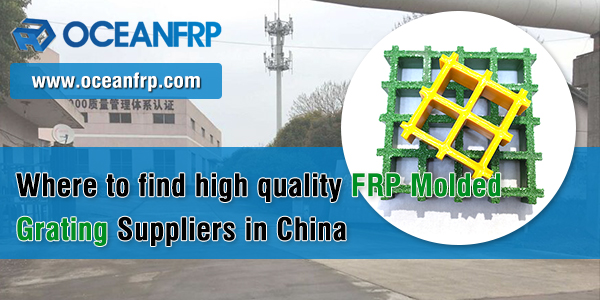 FRP molded grating is popularly used in areas where safety is a major concern. It is very ideal in environments where splashes of oils, liquids, and other corrosive substances are common. It can also be used to prevent corrosion from various types of chemicals. The various FRP molded grating applications include and are not limited to platforms, walkways, protective shielding, raised floors, stairways, and machinery housings. Other industrial applications of molded FRP grating include food processing plants, bottling lines, commercial aquariums, plating shops, lube oil facilities, canning, pulp, paper, and chemical plants.
Advantages of molded FRP Grating
Compared to other molded materials, fiberglass reinforced plastic molding come with various advantages. Among the advantages include:
•Impressive corrosion resistance.
•Great heat resistance with low thermal conductivity
•High impact tolerance
•Longer service life.
•Lightweight but with high strength. It can carry heavy loads compared to steel grating.
•It can be customized into different colors, grating surfaces and more.
•It requires the lowest maintenance possible.
•The slip-resistant surface makes it ideal for use in accident-prone areas where slipping is common.
•The great bi-directional strength makes it very strong.
Where to get the high-quality FRP molded grating?
For durable, well-designed and customized molded FRP grating, OCEANFRP guarantees you the best. Being the leading fiberglass grating suppliers and manufacturers in China, they can design molded FRP grating to suit different types of applications.
Regardless of the application, quantity or location, we can supply top-grade FRP molded grating to clients across the world. You can get them in various panel sizes, mesh configurations, colors, depths and more. Contact us today for the best FRP molded grating deals and prices.